AERIAL SILKS
Aerial Silks classes will teach you to wrap, climb, suspend, fall and transition seamlessly between two lengths of fabric. As well as being a full-body workout, the fabric theory will also challenge your body awareness and cognitive skills. Progression is made through a structured repertoire of skills to enable you to safely and confidently excel in this popular aerial discipline.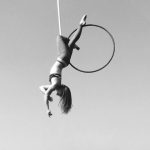 AERIAL HOOP
Aerial Hoop classes will guide you through a variety of acrobatic skills on the circular steel ring. Learn to transition from static holds and balances to dynamic rolls, drops and spins. Emphasis is placed on creating fluid sequences that move above, below and within the hoop, challenging both your strength and flexibility.
STRETCH & FLEX
Stretch and strengthen in one workout. This flexibility and conditioning class is designed to compliment your aerial training. A circuit-based bodyweight workout incorporating both ground-based and aerial exercises, followed by a structured stretching program to help increase range of motion and improve active flexibility.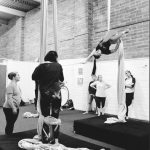 WORKSHOPS
Workshops and masterclasses are hosted at Silk & Steel Studio throughout the year. These range from skill intensives, specialist aerial disciplines and related classes.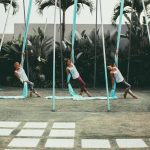 CHOREO CLUB
In this aerial dance workshop you will learn a full routine and perform alongside the rest of the class. Expect creative transitions, original choreography and variations on your favourite moves. A fantastic way to improve your stamina and develop a smooth flow in the air.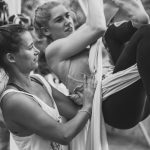 PRIVATE LESSONS
One-to-one sessions are 1 hour and include a warm up and cool down. What you work on during this time is your choice and can range from extra tuition to improve specific skills, a routine choreographed for you to learn, training for a performance, or just as an addition to your group class to expand your movement vocabulary.​
Silk & Steel Studio, Unit 34
Exeter Business Centre, 39 Marsh Green Rd W, EX2 8PN